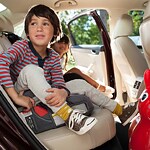 Road trips are such a beloved annual pastime for groups of friends and families. Time spent on the road is a great opportunity to build new family memories, strengthen bonds and make road trip travel times feel faster and more enjoyable. Fortunately, there are dozens upon dozens of road trip games to pass the time. Our Salem, OR Capitol Chevrolet team selected a few for your info.
Best for small to pre-k children, road trip scavenger hunts are low maintenance, inexpensive, fun, and educational. Print out a sheet containing images of randomly selected items you might encounter on a road trip: restaurant, gas station, traffic cone, etc. Have your children check off each image as they encounter its real counterpart on the road. Reward the winner or all players with a prize.
Somewhat dated, this game involves players calling out the sight of a classic VW Beetle on the road. The classic beetle gets two points. Vans get five points. A replica of the original Herby the Love Bug scores a whopping 10 points, but good like finding one. You can also swap the VW for any makes and models that you and your children/friends love.