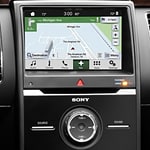 If you want a better experience and extra luxury when driving in Salem, OR, a built-in infotainment system is what you need. An infotainment system is a system that provides both entertainment and information on car displays for an improved in-vehicle experience. It's how you get acquainted with and control various functions of your car.
A vehicle's infotainment system features are different depending on the car models and prizes. However, most modern infotainment systems can feature high-resolution display, radio, and cell integration (Apple CarPlay and Android Auto), multimedia support, heating, and air conditioning, Internet Access, GPS integration, and lighting. All these features can be accessed using a touch screen, voice commands, steering wheel controls, and button panels.
The features also ensure the driver can perform various tasks that are centralized with minimum or no distractions. Infotainment systems are yet to become better with the digital age, and at Capitol Chevrolet, we can incorporate tech that'll upgrade your car's system.